It's that time of year again, and as the weather gets warmer we need to make sure we have good sunscreen for ourselves and especially for our kids. I don't know about you but this used to be such a chore for me. I dreaded shopping for sunscreen. It's so confusing and there are so many choices. This was the case until I knew what I was looking for and what I wanted to avoid. The Environmental Working Group (
EWG
) just put out their 2012 report on sunscreen. It is full of information regarding higher SPF vs lower SPF, the importance of vitamin D and watching out for toxic chemicals that do more harm than good to your skin.
Here are some things to consider when sunscreen shopping:
A little sun is good for you. So good for you. Wait at least 10-20 minutes before applying sunscreen. It is one of the ways to get a good dose of Vitamin D.
Higher SPF does not necessarily provide you better coverage. We tend to be a little more careless when we apply a higher SPF. We don't reapply as often as when we wear a lower SPF and tend to stay out in the sun longer. Plus the higher the SPF the more increased exposure you have to hazardous ingredients on your skin.
Beware of spray sunscreen, there is the potential for inhalation of spray ingredients that can be toxic and harmful. There are some good ones if you prefer the spray kind.
You don't want Vitamin A also known as retinal palmitate in your sunscreen. I know that sounds crazy but retinal palmitate is thought to spread the development of skin tumors when in the presence of sunlight.(more info)
Here is a review on some I have at home and if you click on the name it will take you to EWG's rating of this product and break down of the ingredients in the product: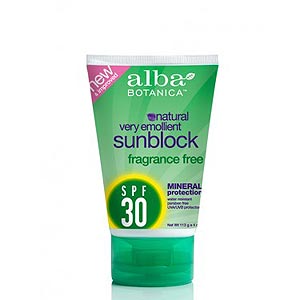 This sunblock is light in consistency and blends right in. There is no fragrance in this product and it doesn't smell funny.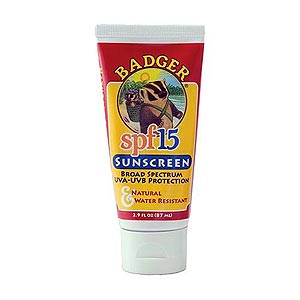 A little thicker in consistency but it blends right in and has a nice light scent.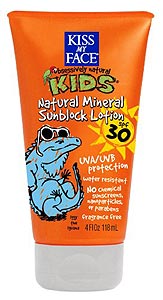 Even though this was light in consistency it was not as easy to blend in. It is fragrance-free but it had a slight unpleasant odor. Not a favorite but we used it.
There are some good Coppertone ones on the list and you can find good sunscreen at your local health food store and Target or online. So please check your sunscreen against EWG's website and see if it is safe to use. If you need to go buy some here is their list of the
best and safest sunscreens
out on the market. And always check with your doctor especially if you have sensitive skin.